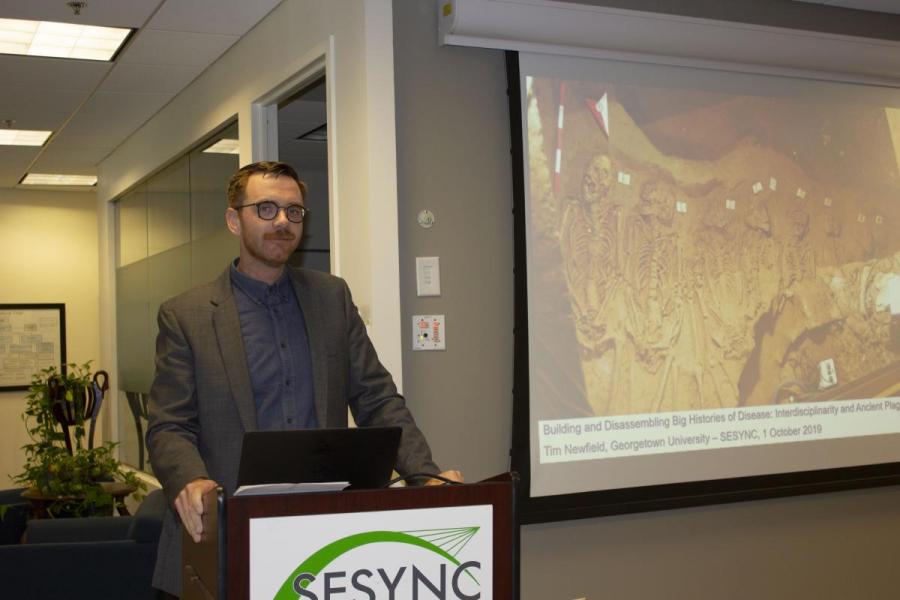 One less commonly known plague of antiquity is the Antonine Plague (165-190 Common Era [CE]). According to some historians, the Antonine Plague spanned the entire Mediterranean region, killing between 10-50% of the Roman Empire. The Roman Emperor, Lucius Verus, and his co-regent Marcus Aurelius are two of this epidemic's purported victims. Some historians even assert that it crippled the Roman military, leading to the end of Pax Romana. 
In his recent seminar at the National Socio-Environmental Synthesis Center (SESYNC),  historical epidemiologist, Professor Tim Newfield, counters this "maximalist" or extreme interpretation of the Antonine Plague with a more nuanced argument. He asserts that this epidemic was not the mass source of mortality as has been previously described. As an Assistant Professor in the Department of History at Georgetown University, Newfield uses collaborative and interdisciplinary approaches to bring new evidence into discussions of the deep past (1st millennium CE). 
Newfield suggests that the exaggeration of the Antonine Plague's impact is a product of two issues. The first issue is how historians incorporate (or fail to incorporate ) the latest evidence from other disciplines. For example, while there have been new advances in climate science surrounding a climate event in 6th century CE, many historians continue to cite the same paper from over a decade ago. Unfortunately, he said, historians may pull studies from other disciplines into the historical realm but decontextualize them in the process. While Newfield has supplemented his own historical interpretation of primary sources with the latest pollen, genomic, and archeological data, he notes that it is imperative to work with interdisciplinary colleagues who can provide their expertise. Newfield stated that, "solely through an interdisciplinary framework can historians make historians relevant to contemporary frameworks."
The second issue is how historians weigh the descriptions of contemporary vs. primary sources. He notes that unlike non-contemporary accounts, contemporary accounts of the outbreak are not particularly dire or descriptive. The result is that scholars build their arguments on non-contemporary sources and continue to distance themselves from the actual descriptions in primary accounts.
During his seminar Newfield traced three waves of maximalist historian interpretation surrounding the Antonine Plague. In the final maximalist wave originating in the 1960s, he said historians shifted the narrative to argue that the Antonine Plague was likely a smallpox outbreak that led to 10 million deaths.  Newfield offered several counterarguments. Much of this hypothesis relies on tax documents from the Roman Province of Egypt, which detailed a declining tax base. Newfield notes that this single locale was taken as a template or substitute for other parts of the empire, but that historians should not assume that such local or regional patterns are universal.  External factors like a large volcanic eruption in the region could also have been at fault. Also, more recent molecular studies suggest that smallpox likely emerged several hundred years after the observed outbreak. Although the evidence is not rich enough to pinpoint a definitive alternative diagnosis, Newfield said, "By pointing out the errors in the approaches that have been taken so far, I think there is value in that."
On the relevance of historical disease research to modern disease research, Newfield pointed out that often our conceptions of disease are based on assumed common knowledge rather than detailed scholarship. These assumptions then inform research and funding agendas. Newfield also points to the role that historians can play in synthesizing datasets that are of use to disease researchers.  Newfield said, "Historians can bring their skillsets to the table and construct long-running [time] series." In turn, historians can learn to ask better questions. Newfield stated that, "more historians should be engaging with academics outside of their field."
SESYNC holds a Seminar on Tuesdays throughout the academic calendar year. For more information about the Fall 2019 lineup of speakers, please see our schedule.